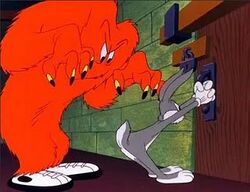 A Hair-Raising Monster is an episode of The Looney Tunes Show.
Plot
Bugs is asked by Witch Lezah to babysit Gossamer while she goes away for the weekend. Lola comes over to help, but she accidentaly knocks down a potion on Gossamer's head. The potion turns him evil, and his original, blood-thirsty monster feeling kicks in, and brings danger to the neighborhood.
Cast
MrJoshbumstead as Gossamer, Tweety (cameo)
Doctor Bugs as Bugs Bunny, Foghorn Leghorn (cameo)
KitKat1894 as Lola Bunny, Witch Hazel
SourBot as The Narrator, Yosemite Sam (cameo), The Tasmanian Devil (cameo)
Teleram as Porky Pig (cameo), Pedestrian #1, Sylvester (cameo)
Thomas D. Coyote as Beaky Buzzard (cameo), Pedestrian #2
Trivia
This is the first time in the series that Gossamer returns to the personality that he had in the original cartoons.
Ad blocker interference detected!
Wikia is a free-to-use site that makes money from advertising. We have a modified experience for viewers using ad blockers

Wikia is not accessible if you've made further modifications. Remove the custom ad blocker rule(s) and the page will load as expected.