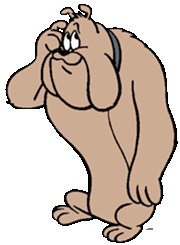 Hector the Bulldog is the defender of Tweety, pet of Granny, and enemy of Sylvester. He first appeared in "Bulldog Blues."
Tweety Tunes
Hector will appear in two Tweety Tunes. The first is "My Broken Dog Bones", where Granny adopts him to be Tweety's guard dog from Sylvester. The seccond is called "Raging Bulldog" where Sylvester attempts to kill him off for good, to get to Tweety.
Ad blocker interference detected!
Wikia is a free-to-use site that makes money from advertising. We have a modified experience for viewers using ad blockers

Wikia is not accessible if you've made further modifications. Remove the custom ad blocker rule(s) and the page will load as expected.