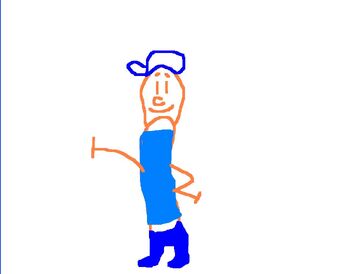 About
Josh Bumstead is an awesome Road Runner and Wile E. Coyote fan. He is a storyboard writer for Warner Bros, and created Nellie Runner, The Accent Coyote, Mike Bunny, SharkBob BaitPants, Homeal Sampson, and Bugs's Gardian Angle. He appears randomly in the show as himself (a fun-loving tenage boy) were he is best friends with the Looney Tunes (close friends with Bugs, Wile E., Road Runner and sometimes Daffy). He also appears in the episode We're Here! He also voices several characters, including the Road Runner and Mike Bunny. His personality is a happy-go lucky person who tends to go crazy a lot & he likes to make people laugh (simular to Roger Rabbit). His favorate video game is Pac-Man and he likes swimming & having fun. Though he may act silly sometimes he is very very smart and gets good grades in school. He also likes to draw pictures of the Looney Tunes. He also sings the Merry Melody Act Naturally.
Apperances in The Looney Tunes Show
Season One
Season Two
Season 3
Movies
Video Games
Voice Roles
Ad blocker interference detected!
Wikia is a free-to-use site that makes money from advertising. We have a modified experience for viewers using ad blockers

Wikia is not accessible if you've made further modifications. Remove the custom ad blocker rule(s) and the page will load as expected.