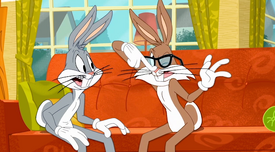 Rodney Rabbit is Bugs Bunny's childhood best friends at summer camp. He is a minor character in The Looney Tunes Show but will be appearing as a main character in The Looney Tunes Show Redux.
Physical Appearance
Rodney is very tall with light brown fur with big black circular glasses, a pink nose, and a skinny body. He highly resembles the Nesquik bunny.
Trivia
Rodney is a major character in the fan-made episode, "The Tower", where he is a construction worker. When Bugs complains about the noise, Rodney gives him special service from the construction boos. Later, he is seen drilling a large piece of wood with Pete Puma, much to Bugs' annoyance. Finally, he says, "That's All, Folks!", and drills the screen.
Ad blocker interference detected!
Wikia is a free-to-use site that makes money from advertising. We have a modified experience for viewers using ad blockers

Wikia is not accessible if you've made further modifications. Remove the custom ad blocker rule(s) and the page will load as expected.