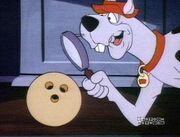 Scooby-Dum lives with Ma and Pa Skillett in the Hokeyfenokee Swamp of southern Georgia. Whenever Scooby-Doo and Scooby-Dum greet each other, Scooby-Doo greets, "Scooby-Dum" and Scooby-Dum says, "Scooby, doobie, doo." They then do a special handshake involving two high fives. He is employee of Books & News.
Physical appearance
Scooby-Dum is grey Great Dane with spots, buck teeth.
Personality
He has a generally dim-witted demeanor.
Ad blocker interference detected!
Wikia is a free-to-use site that makes money from advertising. We have a modified experience for viewers using ad blockers

Wikia is not accessible if you've made further modifications. Remove the custom ad blocker rule(s) and the page will load as expected.