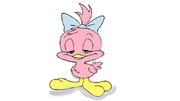 Sweetie Pie is Tweety's zany girlfriend, and Bugs & Daffy's pet bird who does immitations. She my be somewhat crazy, but she knows when to keep it cool. She is voiced by Tress MacNeille.
_____________________________________________________________
Appearances:
Talk To The Wing (Debut)
Sweetie first meets Tweety and goes lovestruck for him. But she kind of takes it too far.

Trivia:
Her voice is supposed to sound like Babs Bunny from Tiny Toons, or Dot Warner from Animaniacs.
She is Bugs and Daffys pet bird.
In Talk To The Wing, it is revealed that Sweetie likes Elvis Presley, because she was humming the song "Hound Dog," by Elvis Presley.