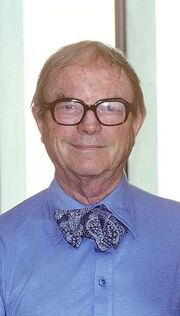 Charles Martin "Chuck" Jones (September 21st, 1912 - February 22nd, 2002) was an animator who used to work on the original Looney Tunes. He died in 2002. The ghost of Chuck appears in the episodes Doomed Duck, Chuck Returns, and Chuck Strikes Back, voiced by ProfessorDuck. 
Trivia
He was a nice guy in real life, but haunts Daffy and Porky because they aren't acting "classic" enough.
Ad blocker interference detected!
Wikia is a free-to-use site that makes money from advertising. We have a modified experience for viewers using ad blockers

Wikia is not accessible if you've made further modifications. Remove the custom ad blocker rule(s) and the page will load as expected.