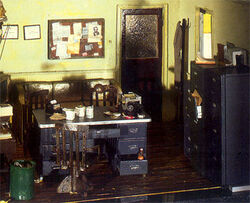 The Tom and Jerry Detective Agency is run by Tom Cat and Jerry Mouse.
Employees
Tom Cat (co-owner)
Jerry Mouse (co-owner)
Tom Cat Jr.
Jerry Mouse Jr.
Spike the Bulldog
Tyke Dog
Mike Dog
Nibbles
Quacker
Muscles Mouse
Topo
Tiny Bulldog
Puggsy
Frankie DaFlea
Peep
Droopy
Dripple
Drippy
Bernie the Swallow
Swampy Fox
Barney Bear
Benny Burro
Joe Bear
Screwy Squirrel
George and Junior
Ad blocker interference detected!
Wikia is a free-to-use site that makes money from advertising. We have a modified experience for viewers using ad blockers

Wikia is not accessible if you've made further modifications. Remove the custom ad blocker rule(s) and the page will load as expected.