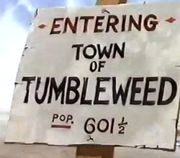 Tumbleweed County is somewhere in the American West. The main town is Tumbleweed, and around it are ranches and desert.
History
The law enforcement for the region is Deputy Dusty, assisted by his brave dog Yabba-Doo and, when he visits there, by Yabba's nephew & cousins Scrappy-Doo and Scooby-Dum.
Ad blocker interference detected!
Wikia is a free-to-use site that makes money from advertising. We have a modified experience for viewers using ad blockers

Wikia is not accessible if you've made further modifications. Remove the custom ad blocker rule(s) and the page will load as expected.